Braised Beef Tenderloin with Yomeishu Sauce and Soba Noodles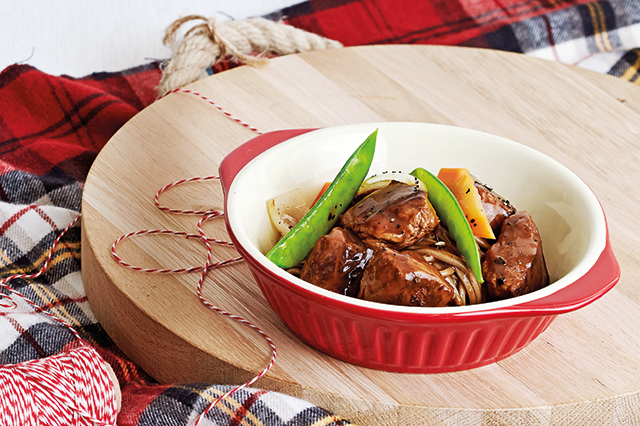 Braised Beef Tenderloin with Yomeishu Sauce and Soba Noodles
Serves: 4
Ingredients
– 200g soba noodles
– 1 tbsp cooking oil
– 500g beef tenderloin, cubed
– 1⁄2 tsp salt
– 80g carrots, sliced
– 40g onion, cubed
– 1⁄2 tsp black pepper
– 1 cup Yomeishu wine
– 2 cups beef stock
– 40g snow peas, cooked
Steps
1. Cook soba noodles according to the instructions on the packet. Set aside.
2. Heat up a pan over medium fire and add cooking oil.
3. Season beef with salt. Add to pan and saute for 8 to 10 minutes until golden brown.
4. Add carrots, onion and pepper.
5. Add Yomeishu wine. Reduce heat to low and simmer for 2 minutes to dissipate the alcohol.
6. Add stock and braise until beef is just tender enough, for about 30 minutes.
7. Place soba in a casserole and pour beef onto it.
8. Add snow peas to it. Serve immediately.
Executive Chef Ho Limg Neng and dietitian Janice Chong, both from Mount Alvernia Hospital, contributed this recipe and nutrition tips. This recipe makes 4 servings.
Back to Recipe